The Association has started a Gift Card Program for its members. You have seen them on display at the big national retail chains, and most likely, you have even bought and received them as gifts yourself, but did you know high-quality, high-profit Gift Card systems are now available to our members?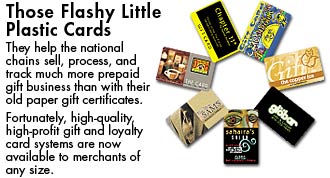 The Lawn & Garden Dealers Association has two programs. Both programs are designed for members who are looking for a market-proven, easy to implement, and low-cost way to get started selling Gift Cards.
Description

Standard Package

Premium Package

Minimum Cards:

100

1000

Custom Design:

None

Yes ($75 artwork, $100 color set-up)

Cost Per Card:

50 Cents

50 Cents

Monthly: Minimum:

None

None

Statement Fee:

$10 (optional)

None

Transaction Fee:

20 Cents

$25 a month (includes 4,000 a year and 15 cents
in excess)

Set Up Fee:

$50

$50
Let us help you grow your money by helping you spend less.